CAT-5 Cable

"CAT-5" is a nickname for cable with four wire pairs that each meet the "Catagory 5" specification for data communications. The specification defines the conductor size, insulation quality and wire twists, plus a multitude of performance characteristics. In theory, all CAT-5 cables perform the same, supporting data transmissions up to 100MB/s. A more stringent cable specification is "Catagory 6" ("CAT-6"), supporting data transmissions up to 1GB/s. A less stringent specification is "Catagory 3" ("CAT-3"), supporting data transmissions of only 10MB/s or less.
CAT-5 cables have 4 wire pairs, making a total of 8 wires. Each pair is twisted together (you've probably heard the phrase "twisted pair" before) to reduce signal interference. The biggest factor between the catagory specifications is the number of twists per linear unit. The more twists, the greater the signal integrity. Data signals are sent over the wire using a differential method. With tighter twists, any interference received by the cable is more likely to affect both wires in a pair equally, resulting in no change in the difference between them. This allows greater data capacity over longer distances. The tighter twists also suppress noise created by the cable because the magnetic field from one wire is canceled by it's mate, making it less prone to interfering with other cables. When terminating data cables (with crimp-on connectors or at punch-down terminals), it is important to untwist the pairs as little as possible (1 cm. max.). Some ill effects of tighter twists is they make the cable more stiff and brittle.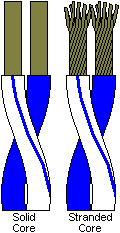 CAT-5 cabling can come with either "solid" or "stranded" cores. Each wire core in "solid" CAT-5 contains a single 24 gauge wire. Each wire core in "stranded" CAT-5 is made from several thin strands. The solid cable is stiffer and less suseptible to moisture contamination, making it the choice for in-wall wiring. The stranded cable is more flexible, less suseptible to fatigue from repeated bending and should only be used for cables no longer than 3 meters, making it the choice for patch cables (the cables connecting the wall jack to equipment). The connectors that are crimped on the end of CAT-5 are usually meant for either solid or stranded cable (though some will work with both), so be sure you get the right kind for your cable (and make sure they are CAT-5 rated).

CAT-5 cabling can also come "shielded" or "unshielded". All the wire pairs in "shielded" CAT-5 are contained in a wire-braid tube called a "shield". This further protects the wires from outside interference and reduces the amount of noise that can escape the cable. We recommend unshielded CAT-5 for home installations, and many equipment specifications also call for unshielded cables.
Another term you will hear a lot while shopping for CAT-5 cable is "plenum". "CAT-5 plenum" (sometimes called CMP) has the same performance characteristics as regular CAT-5 (sometimes called CMR, the "R" stands for "Riser"). The term "plenum" refers to the fire rating for the material making up the outer jacket of the cable. Plenum rated material does not release toxic fumes in the event of a fire. Regular CAT-5 uses a PVC jacket that will release toxic fumes when burned. Many building codes require the plenum for commercial installations but not for residential installations. Commercial buildings typically run cable through drop ceilings, and since the drop ceilings are also used for air circulation (this is called a "plenum space") there is the potential to distrubute fumes during a fire. Residential homes typically use sealed ducts to distribute air so there is no real chance for contamination (an exception to this is running wires in the return air space, which is typically not ducted). Also, homes are evacuated faster than commercial buildings, so the danger of a hazardous exposure to fumes is inherently less. With all the PVC already in most homes, in our non-expert opinion it is not worth the price difference to get plenum (sometimes twice as expensive), but that is a decision you should make for yourself after more carefull and thorough research. Refer to your applicable building codes regarding plenum cables before you make any installations.
There are other practical differences between CAT-5 cables. Some have a fiber filament that takes some of the tensil strain off the wires. Others have easier-to-distinguish colors on the wire pairs. These are just a few and it depends on the brand you buy.